Hope Starts Here
Are you ready to be free from addiction? Do you want to re-start & re-build your life? Whether this is your first time trying to get sober, or your 20th, there is hope. The Plymouth House can be your last treatment & the beginning of lifelong recovery. Find out how >>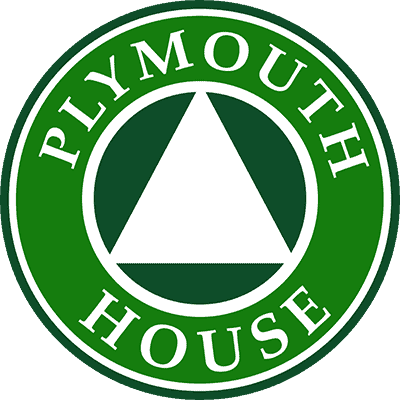 New England's
Premier Addiction Treatment Program
The Plymouth House Difference
The Plymouth House is a 12-Step retreat and addiction treatment center nestled in the picturesque foothills of the White Mountains in New Hampshire. Our campus sits on 60 acres of natural land and is an idyllic place for individuals to begin laying the foundation for lifelong recovery.
Since 2002 The Plymouth House has been utilizing an intense 12-Step process to help individuals recover from addiction. The Plymouth House's founder, Tom S., believed wholeheartedly in the power of the 12 Steps to transform lives. The Steps give individuals the spiritual and emotional tools necessary to lead purposeful, joyful, loving lives.
In 2021, The Plymouth House joined Guardian Recovery Network, a national leader in substance use disorder treatment. The Plymouth House has combined its expertise as a successful 12-Step retreat with Guardian's world-class medical and clinical care. We have expanded our medical and clinical staff to include primary care physicians, and licensed psychiatrists. In addition, we are now able to provide access to treatment services using private health insurance, which can mean little to no out-of-pocket cost for guests. 
The Plymouth House's core 12-Step process combined with expert medical and clinical care, provides the strongest foundation for clients seeking long term recovery.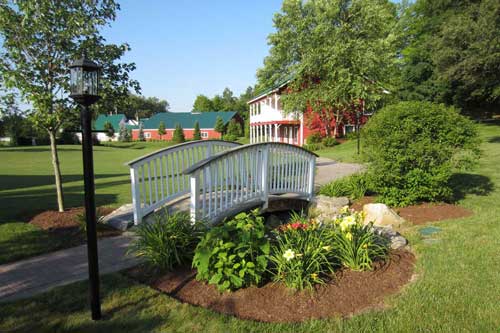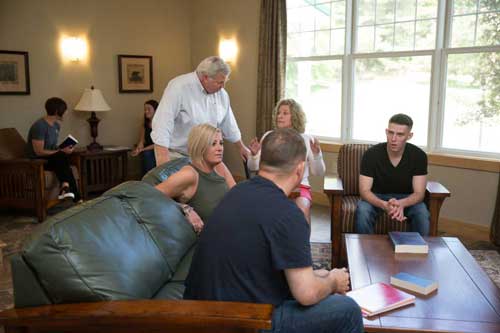 Nationally Accredited & Recognized
Our nationally accredited substance use treatment center is one of the most highly respected programs in the country.
Nationally Accredited & Recognized
Our nationally accredited substance use treatment center is one of the most highly respected programs in the country.
A Relaxed Retreat For Recovery
The Plymouth House campus is the perfect place to find freedom from addiction. Every aspect of our campus and program have been designed to provide guests with the tools necessary to live life sober long-term.
12-Step Focus – Our guests actively work the steps

Clinical Excellence – World-class therapists & recovery staff

Idyllic Retreat – A beautiful natural environment to heal
Our program gives guests a peaceful, serene environment with expert clinical care and experienced 12-Step practitioners.
Simple Straightforward Admissions
Our confidential admissions process is simple and straightforward. We understand how difficult it can be for you or a loved one to find a treatment program. At The Plymouth House we are committed to making admission as easy as possible. If, for whatever reason, we are not the best fit for you or your loved one, we promise to help you find a program that is.
The Plymouth House Process
The Plymouth House Process is designed with multiple phases to help individuals solidify their recovery. The first phase is our Residential Inpatient Program. During this phase guests work intensively with both a primary therapist and a 12-Step Contact. A 12-Step Contact is essentially a professional sponsor — a practitioner highly experienced in taking individuals through the 12-Steps of recovery. While in Residential Inpatient, guests work the first three steps and have a full daily schedule, seven days a week, packed with group workshops, individual therapy, recreational activities, yoga, meditation and nutritious meals.
After completing our Residential Inpatient Program, guests move on to our Partial Hospitalization Program (PHP). This phase is much like the first but guests have Sundays free. The subject matter of groups shifts to focus on maintaining sobriety in the world-at-large and healing old wounds that could potentially hinder one's ongoing sobriety. During this phase clients work steps four through seven. These steps encourage our guests to self reflect, own responsibility, find forgiveness and see their own defects of character.
After completing PHP, our guests graduate from the primary care program. At this point guests have the option to stay in our Extended Care Program, apply to volunteer in our Monitor Program or move on to an outside program of recovery. Our Case Managers help every guest come up with a strategic plan for excelling in sobriety. In both Extended Care and the Monitor Program guests have the opportunity to finish all 12 Steps, continue therapy and slowly reintegrate into the world sober. Individuals gain a sense of personal integrity, self-confidence, higher purpose and inner-peace as they progress through this phase. Joy returns.
Addiction Treatment Services
The Plymouth House offers a wide array of medical & clinical treatments. Our treatments include Cognitive Behavioral Therapy (CBT), Dialectical Behavioral Therapy (DBT) and Eye Movement Desensitization & Reprocessing (EMDR). For clients struggling with dual-diagnosis or other mental health issues we offer regular visits with our psychiatrist and medical team. We consistently update our programming to include evidence-based methodologies shown to effectively treat addiction. Read more about our addiction treatment methods here. By offering such a wide array of therapeutic treatments, every guest has an opportunity to recover, heal and grow. Change is possible.
We believe in the power of community and connection to help individuals get and stay sober. Guests at The Plymouth House bond with each other and attend outside 12-Step meetings.
Specialty Programs
Specialty programs are also available. These include our monitor program, family workshops and more. If you are interested in any of our specialty programs please reach out to one of Treatment Advisors to learn more.
Addictions We Treat
The Plymouth House has helped individuals recovery from a wide range of drug, alcohol and behavioral addictions. While these addictions appear different on the surface, they are all manifestations of the same inner malady. Our solution is effective for all types of addictions.