The Plymouth House


Guest Experience

The Plymouth House is a serene, 12-Step retreat in the foothills of the White Mountains in Plymouth, New Hampshire. Our 7-acre campus sits on a 60-acre property and features a dining hall, chapel, yoga studio, gym, residential housing, clinical offices, library, vegetable garden, river walking path, basketball courts. horseshoe pits, lounge spaces and laundry facilities. Our campus is an idyllic place for individuals to recover mentally, emotionally, physically and spiritually from addiction.

The Plymouth House is a restorative program that combines the power of the 12-Steps with professional therapy, world-class clinical services, recreational activities and 12-Step mentorship to help individuals find freedom from addiction. For roughly 20 years The Plymouth House has been dedicated to helping people recover their lives and pursue long-term sobriety.
Our program happens in three phases:
Residential Inpatient | Approx. 2-4 weeks | Guests Work Steps 1-3.
Partial Hospitalization (PHP) | Approx. 2-6 weeks | Guests Work Steps 4-7
Extended Care | Time varies | Guests Finish the Steps
>> Before Arriving
Before arriving at The Plymouth House, guests generally go to a medical detox facility to safely withdrawal from drugs or alcohol. Drug and alcohol withdrawal can be an agonizing, even life-threatening experience if attempted without medical help. At most medical detox facilities, patients will receive medications to ease the pain of withdrawal symptoms and stabilize the central nervous system to make detoxing safe. The first step toward recovery is getting physically sober. A medical detox is often necessary to accomplish this. Once a person has been physically stabilized, and their mind has cleared, then they can begin the real work of recovery at The Plymouth House. The Plymouth House has several wonderful partnerships with medical detox facilities in our area. We are happy to connect you and help arrange the transition from detox to our campus.
>> Upon Arrival
Upon arrival, guests of The Plymouth House will be given a tour of our facilities and settle in to one of our gender-specific lodging accommodations. In the first few days, our guests will meet their primary doctor, primary therapist, fellow guests and 12-Step contact. The will participate in our residential inpatient programming, described below.
We Are Here For You
Let Us Help You Heal
Our Drug & Alcohol recovery services are second to none.
Learn how we can help by speaking with one of our Treatment Advisors today.
>> Phase One


Residential Inpatient Program
While in residential inpatient treatment, clients begin individual work with a licensed and highly experienced therapist, and participate in a full daily schedule of group therapy sessions and recovery-related group workshops. They also begin working the 12 Steps of Alcoholics Anonymous with a mentor known we call their 12 -Step Contact. A 12-Step Contact is essentially a professional sponsor — a man or woman who has expertise with the 12-Step method of recovery, and who has guided countless others through the 12-Steps. Guests also participate in a range of structured activities daily. The grounds provide ample opportunities for walking, jogging, basketball, horseshoes, and gardening. In addition, the area is rich in hiking opportunities. Hikes are posted and announced on the daily schedule.
Our Drug & Alcohol Treatment Services Include
---
Example of Our Daily Schedule
Every day of the week is packed full of recovery-oriented activities, including therapeutic sessions (one-on-one and group therapy) and 12-Step education.
Here is an example of our residential inpatient schedule:
6:30-8:15am – BREAKFAST (optional)
7am-8:45am – Yoga (optional)
8am – Goals Group
8:30am – Meditation/Chapel (optional)
9:15am – Reflections
10:15am – Big Book Group I & II (assigned)
12pm – LUNCH
1:30-2:30pm – Guest Led Group
2:30-4:30pm – Big Book Group (assigned)
2:30-3:30pm – Inventory Workshop (optional)
3:00-5pm – Lounges, Fitness, Telephone
3:45-5:15pm – Hike (optional)
5:30pm – DINNER
6:00-7:00pm – Lounges, Fitness, Telephone
6:15-7pm – Inventory Workshop (optional)
7:15-9:15pm – Outside AA meeting
7:15-9:15pm – Big Book (assigned)
9:30pm – Wrap-Up Group
10-11pm – Lounges, Fitness, Telephone
11:30pm – Goodnight
More About Our Facility & Amenities
The comfort of our guests is always a top priority. We want our guests to feel right at home. We believe that comfort is essential to comprehensive healing. When you arrive at The Plymouth House, you'll quickly see that we are not a typical treatment facility.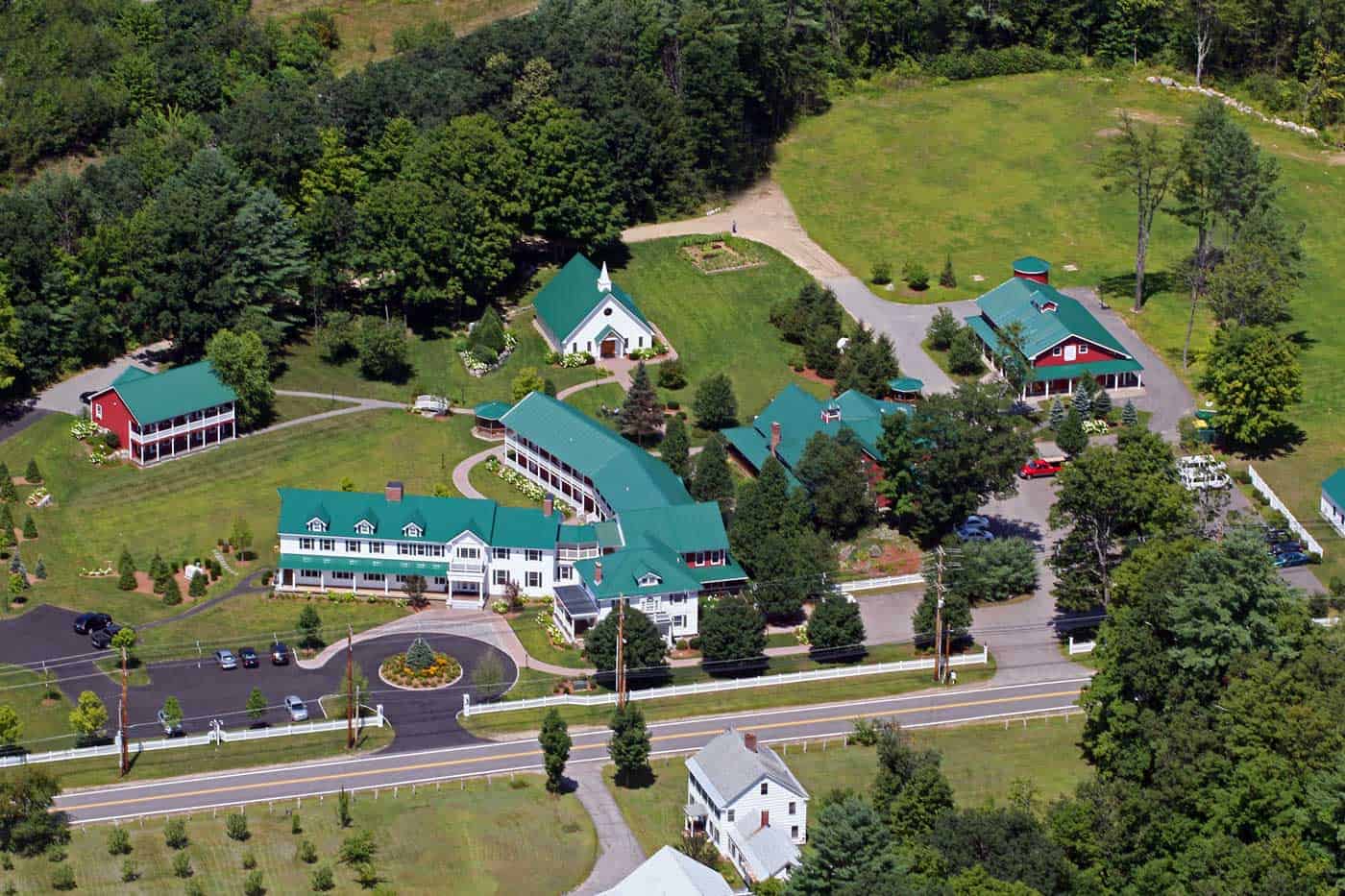 Nestled in the foothills of The White Mountains of New Hampshire, The Plymouth House provides our guests with a safe, serene and comfortable environment to overcome their addiction and recover. Our 7-acre manicured campus sit in the middle of our 60-acre natural property.
Features of our campus include:
A modern dining area
A non-denominational chapel
Men's and women's lounges
Comfortable common meeting areas
A comprehensive library
An on-site laundry facility
A vegetable garden
Walking paths
Yoga Studio
Fitness Room
When it comes to the residential portion of our program, guest accommodations are based on double or triple occupancy with separate quarters for men and women. The rooms are simply appointed and comfortable. Clean linens are provided upon admission. In addition to comfort, The Plymouth House believes that healthy, nutritious food plays an important part in comprehensive recovery.  Our guests are provided with three delicious, healthy and balanced meals each day. Each meal is prepared by our professional chefs relying heavily on locally grown and sourced ingredients including some from our own vegetable garden.
Ready To Begin Your Drug & Alcohol Treatment?
We Offer A Safe & Effective Program
Don't let Drug & Alcohol addiction control your life.
Call us today and let's get you started on the path to a better you.
>> Phase Two


Partial Hospitalization Program (PHP)
When transitioning from Residential Inpatient to our PHP program, guests will move into different accommodations with fellow PHP participants. The programming is very similar to residential in that there is a rigorous schedule of activities, but in PHP participants only have 6-days-a-week of programming and have Sundays off. The subject matter of group therapy sessions changes to focus more on maintaining sobriety, and continuing to work the steps. While in the first week of PHP, guests work steps 4 -7.
A Focus on Relapse Prevention & Life Skills Training
While in the PHP portion of our program, guests begin learning what it will take to navigate a fully independent life. Our main priority is instilling each and every one of our guests with the life skills and healthy coping mechanisms he or she needs to maintain sobriety for years to come. Guests learn to identify and work through their personal relapse triggers. While in PHP, guests also participate in 12-Step work, engage with alumni, rebuild connections with their families, seek health & wellness, and put plans in motion for re-entering the world.
While in PHP, guests take part in the following:
Extensive Daily 12-Step Work
Big Book groups
Prayer & meditation groups
Inventory workshops
Alumni speaker groups
Regular meetings with 12-Step Contacts
Family Support & Contact
Guests create recovery contracts with their families
Guests create a plan if a relapse should happen
Guests have weekly contact with their families
Families can attend a two-hour workshop at The Plymouth House on visiting day
We help individuals get connected with 12-Step support in their home location
Wellness Programs
Life Skills & Case Management
We can help guests apply for benefits such as unemployment and food stamps
We can help guests apply for jobs
We can help facilitate court appearances
We can help provide necessary documentation for employers, probation officers, etc.
>> Phase Three


Extended Care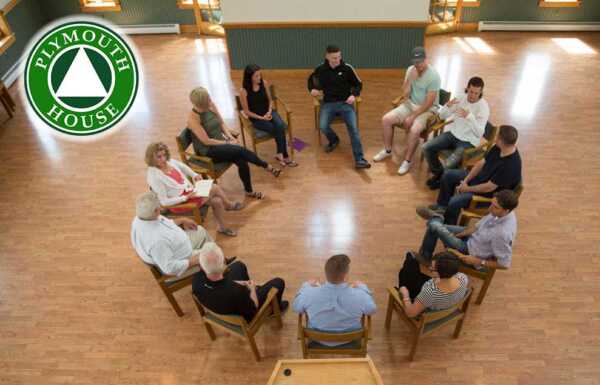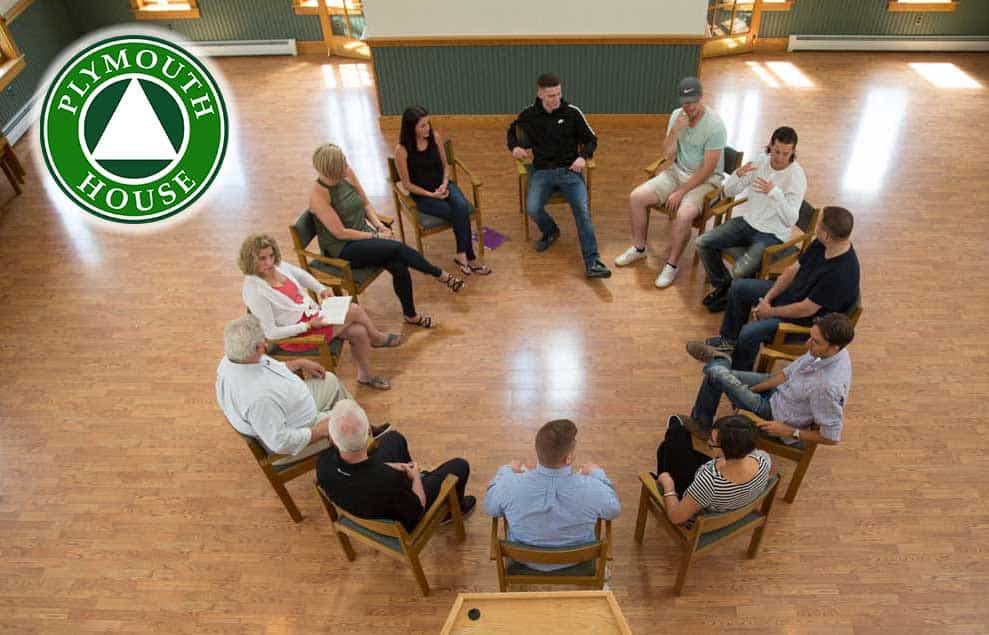 In our Extended Care Program participants live in sober living but continue to come to campus for regularly structured recovery activities. They have the opportunity to finish all 12 Steps with a 12-Step Contact, can continue work in therapy and stay connected to The Plymouth House community. In our 20 years of experience, we cannot emphasize enough the importance of continued care after our primary inpatient program. The transition from treatment into the real world is one of the most challenging and risky times for a person new to recovery, so staying involved with The Plymouth House and slowly gaining more independence is a smart choice.
In addition to working the steps, we encourage our Extended Care participants to volunteer with us. The 12th step emphasizes service to others, so we give Extended Care participants opportunities to do that. We volunteer at several local nonprofit organizations including Wayside Food Programs, Preble Street (Shelter), Center for Grieving Children, Portland Recovery Community Center and Winter Kids.
Participants in aftercare also have the opportunity to take part in wellness programs, such as yoga, fitness classes and life skills workshops, such as budgeting, resume building and bad credit repair.
Offering a rigorous, practical program in a highly structured environment, Plymouth House Extended Care is specifically designed to prepare each guest for success when they move on to the greater independence of sober living. We do our absolute best to prepare individuals for facing life sober for the long haul.
Begin Healing Now!
Have A Call With One Of Our Treatment Advisors
Caring & Experienced Staff

Fully Licensed & Accredited 
More About The 12-Steps
At The Plymouth House our program is 12-Step focused. Our staff consists of experienced 12-Step practitioners with diverse educational backgrounds and life experiences. For roughly 20 years we've been a pioneer in utilizing the power of The 12 Steps to give addicts, alcoholics and their families hope and healing. During the residential portion of our treatment program, guests work closely with their assigned 12-Step Contact on steps 1,2 & 3. During the PHP phase of our program, guests work steps 4-7. If a guest decides to continue in our Extended Care Program (which is highly encouraged, they will finish steps 8-12. Read more about the steps and what they involve HERE.
Begin Your Recovery Journey
We understand how overwhelming committing to a long-term program of recovery might seem, especially if you or your loved one has not sought treatment before. Rest assured that we are readily available to walk you through every single step of the early recovery process. Our experienced team of Treatment Advisors will personally work with you and your loved one from your initial contact with us until the day you arrive at The Plymouth House. We know that in most cases guests and their families have a myriad of questions regarding different treatment options, how to effectively cover the cost of treatment, what to expect from our facilities and details of the admissions process. With one phone call we will assist families and individuals in making the right choices for their unique situation. Contact us today to begin your journey to a new life.