Phase One


Residential Inpatient Program
While The Plymouth House Program is one, comprehensive program, the guest experience is broken up into several parts. The first phase is Residential Inpatient, while the second is called Partial Hospitalization (or PHP for short).
In Residential Inpatient, guests participate in a full daily schedule of group therapy, educational workshops, recreational activities, guided mediation and yoga, 12-Step work, individual therapy and fitness programming. Guests work extensively with both an individual therapist and a 12-Step Contact to work the first three of the 12 Steps. In the second phase — PHP — guests have Sundays off. Monday through Saturday, they participate in a full schedule of groups and activities as they did in Residential, but the subject matter of the programming shifts to focus on how to maintain sobriety and move forward in the 12 Steps. Both phases of care take place at The Plymouth House's sprawling, homestyle retreat facility, which is nestled in the beautiful White Mountains of New Hampshire.
What to Expect from Residential Inpatient
At The Plymouth House our Residential Inpatient Program is generally between two and four weeks long, depending on the unique needs of each individual guest.
While in residential inpatient treatment, clients begin individual work with a licensed and highly experienced therapist, and participate in a full daily schedule of group therapy sessions and recovery-related group workshops. They also begin working the 12 Steps of Alcoholics Anonymous with a mentor known we call their 12 -Step Contact. A 12-Step Contact is essentially a professional sponsor — a  man or woman who has expertise with the 12-Step method of recovery, and who has guided countless others through the 12-Steps. Guests also participate in a range of structured activities daily. The grounds provide ample opportunities for walking, jogging, basketball, horseshoes, and gardening. In addition, the area is rich in hiking opportunities. Hikes are posted and announced on the daily schedule.
We Are Here For You
Let Us Help You Heal
Our Drug & Alcohol recovery services are second to none.
Learn how we can help by speaking with one of our Treatment Advisors today.
Example of Our Daily Schedule
Every day of the week is packed full of recovery-oriented activities, including therapeutic sessions (one-on-one and group therapy) and 12-Step education.
Here is an example of our residential inpatient schedule:
6:30-8:15am – BREAKFAST (optional)
7am-8:45am – Yoga (optional)
8am – Goals Group
8:30am – Meditation/Chapel (optional)
9:15am – Reflections
10:15am – Big Book Group I & II (assigned)
12pm – LUNCH
1:30-2:30pm – Guest Led Group
2:30-4:30pm – Big Book Group (assigned)
2:30-3:30pm – Inventory Workshop (optional)
4:00-5pm – Lounges & Fitness
3:45-5:15pm – Hike (optional)
5:30pm – DINNER
6:00-7:00pm – Lounges & Fitness
6:15-7pm – Inventory Workshop (optional)
7:15-9:15pm – Outside AA meeting
7:15-9:15pm – Big Book (assigned)
9:30pm – Wrap-Up Group
10-11pm – Lounges & Fitness
11:30pm – Lock-Up Goodnight
Our Drug & Alcohol Treatment Services Include
---
More About Our Facility & Amenities
The comfort of our guests is always a top priority. We want our guests to feel right at home. We believe that comfort is essential to comprehensive healing. When you arrive at The Plymouth House, you'll quickly see that we are not a typical treatment facility.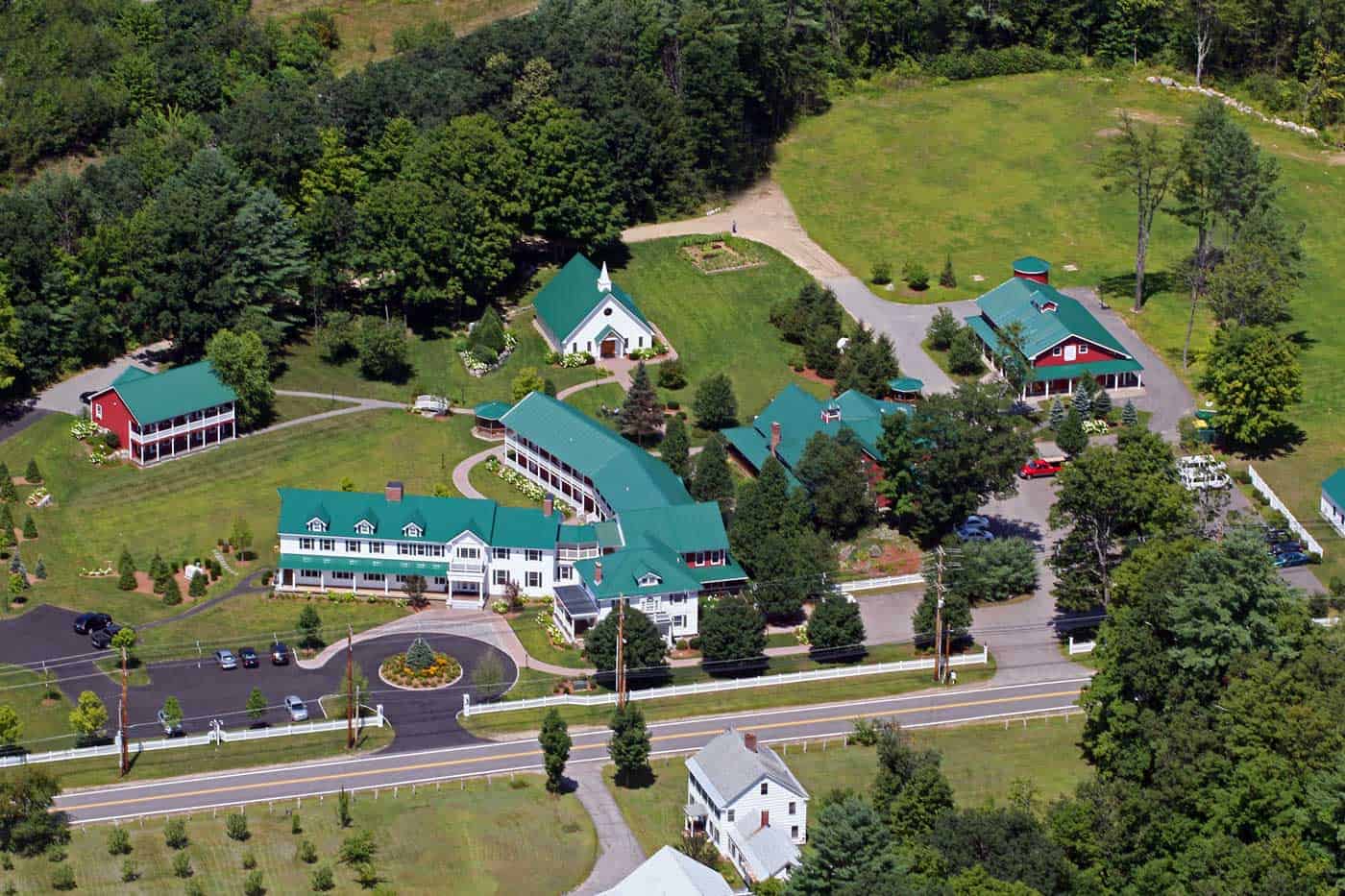 Nestled in the foothills of The White Mountains of New Hampshire, The Plymouth House provides our guests with a safe, serene and comfortable environment to overcome their addiction and recover. Our 7-acre manicured campus sit in the middle of our 60-acre natural property.
Features of our campus include:
A modern dining area
A non-denominational chapel
Men's and women's lounges
Comfortable common meeting areas
A comprehensive library
An on-site laundry facility
A vegetable garden
Walking paths
Yoga Studio
Fitness Room
When it comes to the residential portion of our program, guest accommodations are based on double or triple occupancy with separate quarters for men and women. The rooms are simply appointed and comfortable. Clean linens are provided upon admission. In addition to comfort, The Plymouth House believes that healthy, nutritious food plays an important part in comprehensive recovery.  Our guests are provided with three delicious, healthy and balanced meals each day. Each meal is prepared by our professional chefs relying heavily on locally grown and sourced ingredients including some from our own vegetable garden.
Ready To Begin Your Drug & Alcohol Treatment?
We Offer A Safe & Effective Program
Don't let Drug & Alcohol addiction control your life.
Call us today and let's get you started on the path to a better you.
More About Our Method
At The Plymouth House our entire program is 12-Step focused. Our staff consists of experienced Twelve-Step practitioners with diverse educational backgrounds and life experiences. Dozens of facilities have adopted The Plymouth House Model, but the depth of our staff experience, our family programming and our aftercare planning make us unique. For more than 15 years we've been a pioneer in utilizing the power of The 12 Steps to give addicts, alcoholics and their families hope and healing. During the residential portion of our treatment program, guests work closely with their assigned 12-Step Contact on Steps One, Two and Three.
The first three steps are as follows:
We admitted we were powerless over alcohol—that our lives had become unmanageable.
Came to believe that a Power greater than ourselves could restore us to sanity.
Made a decision to turn our will and our lives over to the care of God as we understood Him.
Over the course of their time in residential treatment, guests and their mentors work on admitting powerlessness and becoming willing to go to any length necessary to recover. Guests are also thoroughly introduced to the concept of developing a spiritual connection with a higher power of their own understanding. Because this occasionally serves as a roadblock for some people who are new to sobriety, it is important that significant focus is placed on understanding spirituality. Many of our guests come to us with preconceived notions about AA, mistaking it for a religious program. During this phase of the treatment process we offer several group workshops that focus on spirituality and its role in AA. We educate our guests on the Disease Model of Addiction, and help them work past any prejudgments they might have regarding the program and its efficacy.
Begin Healing Now!
Have A Call With One Of Our Treatment Advisors
Caring & Experienced Staff

Fully Licensed & Accredited 
Begin Your Recovery Journey
We understand how overwhelming committing to a long-term program of recovery might seem, especially if you or your loved one has not sought treatment before. Rest assured that we are readily available to walk you through every single step of the early recovery process. Our experienced team of Treatment Advisors will personally work with you and your loved one from your initial contact with us until the day you arrive at The Plymouth House. We know that in most cases guests and their families have a myriad of questions regarding different treatment options, how to effectively cover the cost of treatment, what to expect from our facilities and details of the admissions process. With one phone call we will assist families and individuals in making the right choices for their unique situation. Contact us today to begin your journey to a new life.