Phase Two


Partial Hospitalization Program (PHP)
While The Plymouth House Program is one, comprehensive program, the guest experience is broken up into several parts. The first phase is Residential Inpatient, while the second is called Partial Hospitalization (or PHP for short).
In Residential Inpatient, guests participate in a seven-day a week schedule of group therapy, educational workshops, recreational activities, 12-Step work, individual therapy and fitness programming. In the second phase — PHP — guests have Sundays off. The other six days of the week, they participate in a full schedule of groups and activities as they did in Residential, but the subject matter of the programming shifts to focus on how to maintain sobriety and move forward in the 12 Steps.  Both phases of care take place at our sprawling, homestyle retreat facility, which is nestled in the beautiful White Mountains of New Hampshire.
The Process
Before Arriving at The Plymouth House:
Before arriving at the Plymouth House, most of our guests need to undergo a medical drug and alcohol detox at a designated detox facility. A medical detox is often critical as withdrawing off drugs and alcohol can often be a dangerous — even life-threatening — experience. Depending on what substance was being abused, withdrawal symptoms can range from minor afflictions such as restlessness, insomnia, body aches, mood swings and headaches, all the way up to major symptoms such as grand mal seizures, hallucinations, delirium tremens, suicidal thoughts and dangerous drops in blood pressure. It is important that an individual go to a medical facility where they will be safely monitored by professional clinicians. A medical detox can also help alleviate the intense cravings that often drive a person back to their substance of choice before they can receive treatment. In most cases detox lasts for around one full week, though if a substance abuse disorder is particularly severe it can last for multiple weeks.
Arriving at The Plymouth House:
Once a guest has been physically stabilized at an outside medical detox facility and he or she is ready to take the next step in his or her program of recovery, we help arrange transportation to The Plymouth House. Upon arrival, guests are greeted with open arms by our compassionate staff who will help them get settled into their housing and introduce them to our facilities, schedule and clinicians. The Residential Inpatient portion of The Plymouth House Program typically lasts about two weeks, but can vary on a case-by-case basis. After completing the first few weeks in Residential, a guest moves on to PHP. During this phase, guests are moved to housing with other PHP participants, take part in groups and programming six days a week (Mon-Sat), and have Sundays off. This day off allows individuals to learn to cope with idle time, which can be difficult in early sobriety.
We Are Here For You
Let Us Help You Heal
Our Drug & Alcohol recovery services are second to none.
Learn how we can help by speaking with one of our Treatment Advisors today.
What Does PHP Consist Of?
What should a guest expect when transitioning from the residential portion of our program into PHP? While in PHP every guest has access to the same level of clinical care and therapeutic services as he or she did while in residential, but the focus of programming shifts.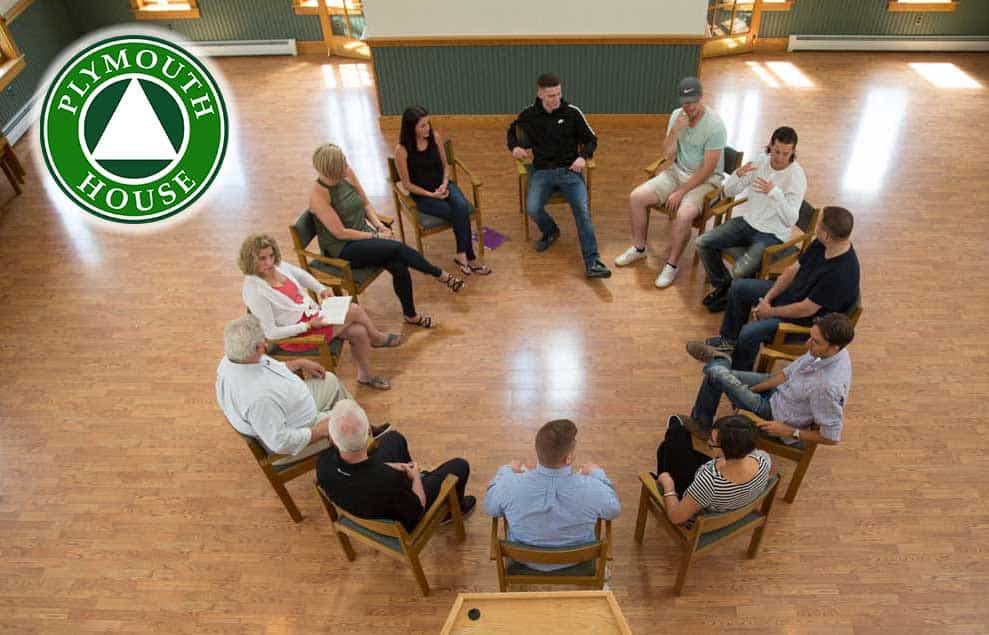 In PHP the emphasis is on how to maintain long-term recovery in the real world, and on working the 4th & 5th Steps of the 12-Steps. The 4th & 5th Steps are largely about healing old emotional wounds, learning self reflection and taking ownership of our mistakes.
While in PHP guests have a structured schedule six days a week, and take Sundays off. Learning how to cope with idle time is a skill critical to maintaining recovery. On Sundays guests are free to use The Plymouth House amenities, work on their Steps or have fun around campus with their newfound friends in the program. We encourage guests to attend at least one 12-Step meeting on their day off, and to take advantage of the recreational activities that are readily available to them. The grounds provide ample space for walking, jogging, basketball, horseshoes, and more. In addition, the area is rich in hiking opportunities. Hikes are posted and announced on the daily schedule for guests who are in residential treatment or PHP.
In PHP, guests still have full access to all of The Plymouth House's amenities, including:
A modern dining area
Non-denominational chapel
Men's and women's lounges
Comfortable common meeting areas
Library
Laundry facility
Vegetable garden
Walking paths
Yoga studio
Fitness room
Our Drug & Alcohol Treatment Services Include
---
A Focus on Relapse Prevention & Life Skills Training
While in the PHP portion of our program, guests begin learning what it will take to navigate a fully independent life. Our main priority is instilling each and every one of our guests with the life skills and healthy coping mechanisms he or she needs to maintain sobriety for years to come. Guests learn to identify and work through their personal relapse triggers. While in PHP, guests also participate in 12-Step work, engage with alumni, rebuild connections with their families, seek health & wellness, and put plans in motion for re-entering the world.
While in PHP, guests take part in:
Extensive Daily 12-Step Work
Big Book groups
Prayer & meditation groups
Inventory workshops
Alumni speaker groups
Regular meetings with 12-Step Contacts
Family Support & Contact
Guests create recovery contracts with their families
Guests create a plan if a relapse should happen
Guests have weekly contact with their families
Families can attend a two-hour workshop at The Plymouth House on visiting day
We help individuals get connecting with 12-Step support in their home location
Ready To Begin Your Drug & Alcohol Treatment?
We Offer A Safe & Effective Program
Don't let Drug & Alcohol addiction control your life.
Call us today and let's get you started on the path to a better you.
Wellness Programs
Life Skills & Case Management
We can help guests apply for benefits such as unemployment and food stamps
We can help guests apply for jobs
We can help facilitate court appearances
We can help provide necessary documentation for employers, probation officers, etc.
Begin Healing Now!
Have A Call With One Of Our Treatment Advisors
Caring & Experienced Staff

Fully Licensed & Accredited 
Begin Your Journey of Addiction Recovery
We understand how overwhelming it can be to make the decision to seek professional treatment after years and years of substance abuse. Committing to an entirely new way of life can seem scary — any type of change, even positive change, requires a great deal of courage. At The Plymouth House we are readily available to help. We make the admissions process as straightforward and stress-free as possible. Our experienced team of Treatment Advisors will personally work with you from your initial contact with us until the day you arrive at The Plymouth House. We know that in most cases guests and their families have a myriad of questions regarding different treatment options, levels of care, covering the cost of treatment, our facilities and the finer details of the admissions process. With one phone call we will assist families and our future guests in making the right choices for their unique situation. Contact us to begin the journey to a new life.