How to Recognize Xanax & Signs of Abuse


Xanax Pill Identification
Xanax is the brand name of the generic medication alprazolam, commonly prescribed for the treatment of generalized anxiety and panic disorder. It belongs to a class of medications known as benzodiazepines, which calm central nervous system activity and produce a sedative effect. Benzodiazepines like Xanax work by increasing the amount of GABA (gamma-Aminobutyric acid, or γ-aminobutyric acid) present in the brain. GABA is an inhibitory neurotransmitter; it works by reducing excitability and decreasing feelings of anxiousness and stress. Not only is Xanax one of the most frequently prescribed medications in the U.S. but it is also one of the most habit-forming. Over the course of the past several years rates of Xanax addiction and overdose have been skyrocketing throughout the country.
According to an article published by the National Institute on Drug Abuse, benzodiazepines like Xanax have been involved in an increasing amount of overdose deaths. In 2019, 16 percent of all opioid overdose deaths also involved benzodiazepines. NIDA reports, "Between 1996 and 2013, the number of adults who filled a benzodiazepine prescription increased by 67%, from 8.1 million to 13.5 million.2 The quantity obtained also increased from 1.1 kg to 3.6 kg lorazepam-equivalents per 100,000 adults."
At The Plymouth House we have seen how devastating Xanax addiction can be in the lives of the addicted person and their loved ones. We have developed an effective, whole-person approach to addiction treatment, combining proven therapies with a 12-Step approach to recovery and evidence-based holistic methodologies. Contact us today to learn more.
What Does Xanax Look Like?
Xanax is produced by a pharmaceutical company (Pfizer Medical) in a variety of shapes and colors. Xanax comes in rectangular, oval and triangular tablets. The shape of the tablet depends on its strength. The most common appearance of Xanax is a white rectangular tablet with scores on one side, so the medication can be physically broken down into smaller doses. This type of Xanax is commonly referred to as a "bar," and is the basis of a fair amount of Xanax-related slang terminology. A person who is high on Xanax might be considered "barred out," for example. If you believe someone you love has been abusing Xanax, keep your eye out for small pills or tablets which fit the following descriptions.
Xanax "Bars"
Xanax "bars" look like the medication pictured in the image to the right. The brand name of the drug is typically printed on one side of the tablet and the dosage is printed on the other. The medication can be broken into four distinct segments. Off-brand alprazolam might mimic the medication in appearance, but the brand name will never be printed on one side.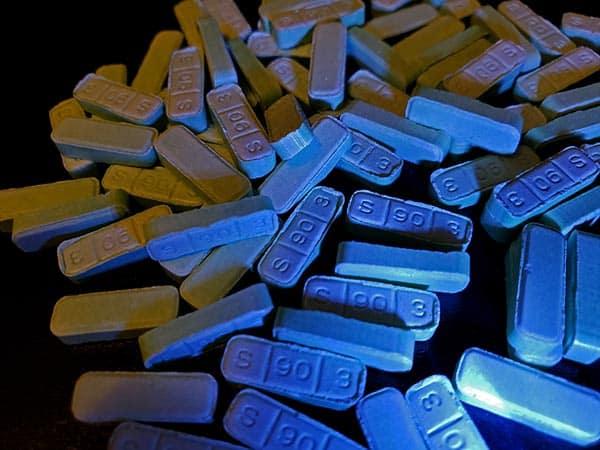 Oval Xanax Pills
Xanax also appears in a small oval shape, which can be blue, yellow, off-white or faded red in color. The pills pictured to the right are found in a small cardboard package; however, Xanax is more commonly prescribed in a small pill bottle. These ovular pills are typically a lower dose than rectangular Xanax. Xanax pills can also be triangular in shape.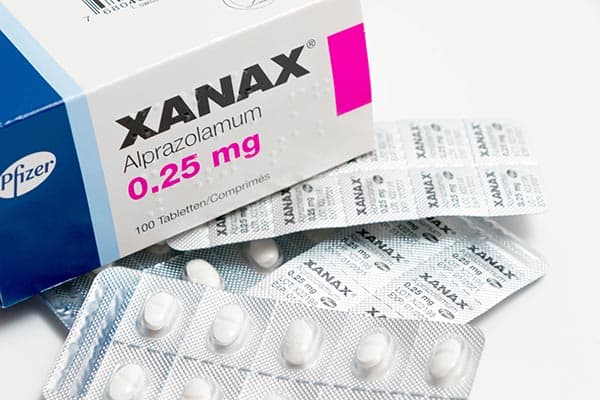 We Are Here For You
Let Us Help You Heal
Our Drug & Alcohol recovery services are second to none.
Learn how we can help by speaking with one of our Treatment Advisors today.
How to Tell if Someone is Abusing Xanax
How can you tell if someone you love has been abusing Xanax or any other benzodiazepine medication? In addition to looking for Xanax pills or tablets hidden in your loved one's personal belongings, there are several behavioral signs to keep an eye out for. The behavioral symptoms of Xanax abuse and addiction include:
Drug-seeking behaviors, including "doctor shopping," which entails visiting more than one doctor at a time in an attempt to obtain multiple prescriptions, purchasing Xanax directly from drug dealers and raiding the medicine cabinets of friends and family members.
Repeatedly attempting to cut back on the amount of Xanax being taken or the frequency of use but being unable to do so.
An increased need for privacy/spending more time alone and less time with family members and friends.
Neglecting personal responsibilities and failing to participate in activities which were previously enjoyed.
Changes to mood and behavior, potentially characterized by periods of agitation and irritability or an increase in angry outbursts.
A decline in cognitive function, which could look like slurred speech, memory problems/regularly blacking out, disorientation and a lack of coordination.
Developing a physical tolerance over time, meaning a higher dose of Xanax is required in order for the desired effects to be produced.
Experiencing Xanax withdrawal when use is suddenly stopped.
If you believe someone you love has been abusing Xanax, The Plymouth House is available to help. The first step is reaching out.
Most Xanax prescriptions can be found in small plastic pill bottles, like the one in the image on the right. Your loved one might be stashing Xanax in a different pill bottle (either one without a label or with a different label) if they are purchasing the medication from a drug dealer or stealing it.
Our Drug & Alcohol Treatment Services Include
---
Why Do People Use Xanax?
Why do people start using Xanax in the first place? The reasons behind initial use depend heavily on the personal circumstances of the user. There are several potential reasons, including:
Your loved one began using Xanax in an attempt to self-medicate an untreated or undiagnosed mental illness, which could include anxiety, depression or unresolved trauma/post-traumatic stress disorder. Because prescription medications like Xanax are so easily obtained, they are commonly abused.
Your loved one was prescribed Xanax or another benzodiazepine for a legitimate mental illness. Because Xanax is prescribed for anxiety disorders and pain attacks, many people who take Xanax for a legitimate reason simply develop a physical dependence over time. If you believe your loved one might have developed a tolerance and is taking a higher dose than recommended, it is important to consult the prescribing physician or another medical or psychiatric professional.
Your loved one was introduced to Xanax in a social setting and began using the drug recreationally. This is especially common among adolescents and young adults. Unfortunately, because this specific medication is so highly addictive, even recreational use can quickly lead to dependence. Additionally, even occasional recreational Xanax use can lead to life-threatening overdose, especially if the medication is mixed with other chemical substances like alcohol or opioid narcotics.
Ready To Begin Your Drug & Alcohol Treatment?
We Offer A Safe & Effective Program
Don't let Drug & Alcohol addiction control your life.
Call us today and let's get you started on the path to a better you.
How to Help Someone Who is Abusing Xanax
How do you help a loved one you suspect has been abusing Xanax? First of all, we recommend educating yourself on the ins and outs of prescription drug addiction. This will help you come from a place of compassion and understanding if you attempt to have an open and honest conversation with your loved one. Because denial often goes hand-in-hand with addiction and because associated drug cravings are so overwhelming, a professionally staged intervention might be a good option. At The Plymouth House we work directly with several professional interventionists, all with ample experience and high success rates. If your loved one is struggling with a life-threatening Xanax pill addiction and repeatedly refuses help, we are available. Contact us today to be put in touch with an interventionist in your area.
The Best Treatment for Xanax Addiction
At The Plymouth House we believe in a whole-person approach to addiction treatment as well as a multi-phased program of recovery, regardless of the severity of the problem at hand. We suggest beginning with medical detox, where your loved one undergoes a safe and pain-free Xanax withdrawal. Next, we recommend they transition directly into a higher level of clinical care. This could be residential inpatient treatment, PHP or IOP depending on the needs of your loved one. Our Treatment Advisors are standing by to help you determine which level of care is the most appropriate choice. Contact us today to learn more.
Begin Healing Now!
Have A Call With One Of Our Treatment Advisors
Caring & Experienced Staff

Fully Licensed & Accredited
Begin Your Xanax Recovery Journey Today
When you or your loved one is ready to ask for help, The Plymouth House is available. Our admissions process is simple and straightforward and can be completed in as little as 15 minutes. We begin by providing a complimentary pre-assessment during our initial phone call, which helps our clinical team determine whether or not our program of Xanax addiction recovery is the best fit for your loved one. Next, we provide a free, no obligation insurance benefit check and help coordinate local travel to our facility. All you or your loved one has to do is ask for help. We will take care of the rest. All you have to do is make the initial phone call or contact us directly through our website and we will help you get your loved one started on their own personal journey of benzodiazepine addiction recovery.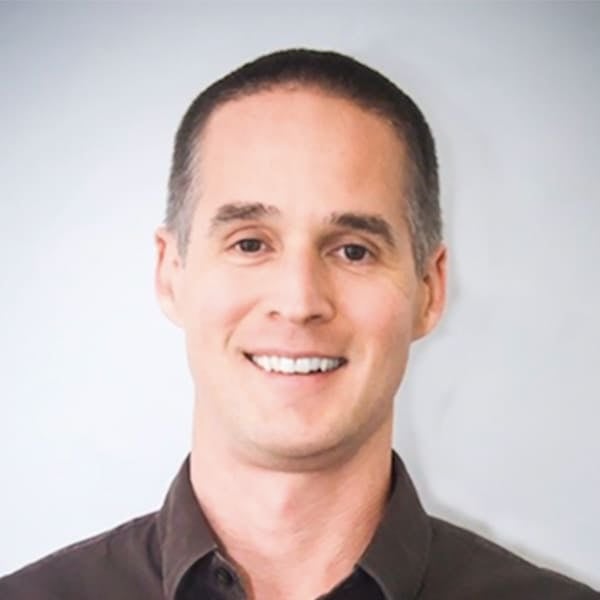 Reviewed for accuracy by:
Russell is a Master Level Alcohol and Drug Counselor (MLADC) and Licensed Clinical Mental Health Counselor (LCMHC) with over 11 years experience treating individuals with substance use and co-occurring disorders. Russell was inspired to get into the field after his experience as a resident at The Plymouth House in 2008.